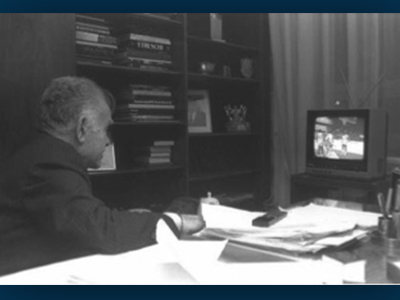 January 12, 1989
Maccabi Tel-Aviv defeats the CSKA Red Army team 97-92 in a basketball game held in Moscow.  The game is the first in which Israeli athletes compete in the Soviet Union since the USSR broke of relations with Israel following the June 1967 Six Day War.  Between the 1967 cessation of diplomatic relations and the January 12th game, sporting events between teams from the two countries were held in neutral territory.
During 1987 and 1988, relations between the nations began to improve under the Soviet leadership of Mikhail Gorbachev. Two years prior to the historic January 12th game, in 1987, the two countries established consular ties which coincided with the Soviet Union's easing of restrictions on Jewish life and opening the gates of immigration to Israel.  Two other events, a failed Soviet hijacking, in which Israeli authorities turned the perpetrators over to the Soviet Union after they attempted to land in Israel and the December 7,1988 Armenian earthquake in which Israel sent relief workers to aid in the rescue, helped to make the game possible.  The visas for the Maccabi coaches and players were only issued three days before the game.
While almost 200 Israeli fans of Maccabi were granted visas at the last minute and allowed to attend the game, the crowd was made up of many Soviet Jews who chanted "Am Yisrael chai" (The people of Israel lives); and "Hevenu shalom aleichem"  (We bring you peace).  One fan, twenty-five year old Arkan Karabchiyevsky, who was awaiting permission to emigrate to Israel, told the New York Times how the game was symbolic of the changing attitudes of the Soviet Union towards its Jews. "As a consequence, people of Jewish nationality are not as afraid.  They can go openly to a game like this and express their feelings."
The resumption of full diplomatic ties between Israel and the Soviet Union would take place on October 18, 1991. (see: https://israeled.org/israel-and-the-soviet-union-resume-diplomatic-relations/)
Photo Credit:  Israeli Prime Minister Yitzhak Shamir watches the broadcast of the Maccabi Tel-Aviv CSKA Moscow basketball game in his office on January 12, 1989.