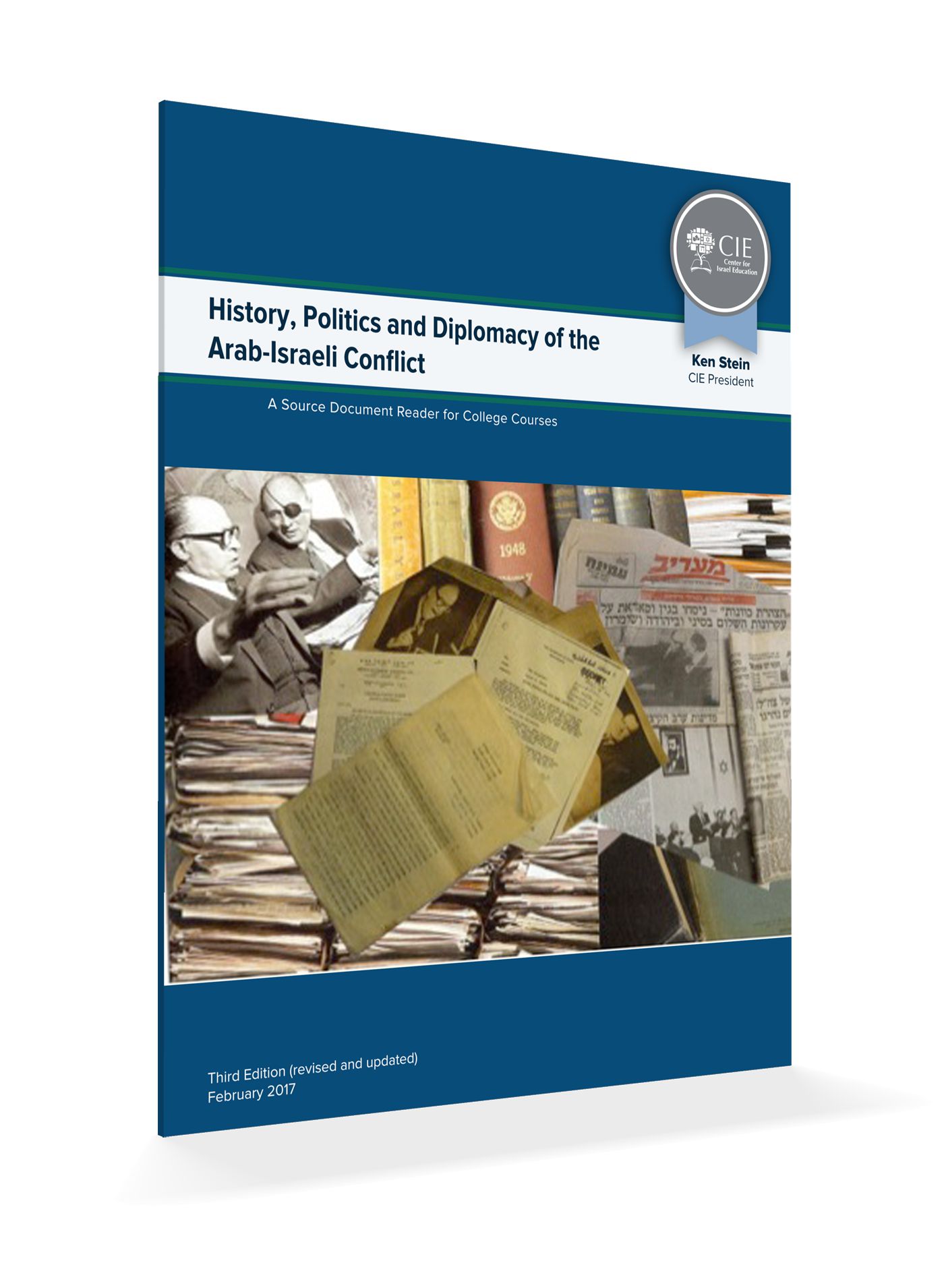 History, Politics and Diplomacy of the Arab-Israeli Conflict
$24.99
This compilation, in its third edition, includes 521 items/2140 pages covering the period from 1893 to February 2017. It includes accords, agreements, declarations, diary entries, memoranda of understandings, original archival materials, proposed initiatives and plans, press conferences, political statements, quotations from political principles, speeches, secret understandings, summit conference protocols, treaties, UN Resolutions, and more. Many of the entries are translated from Arabic, German, and Hebrew and appear in English for the first time. Included are thirteen maps covering the Ottoman period to the present. Divided chronologically into to six sections, each has a short historical introduction of important events of that particular period. The book's introduction describes the four decades of source collection. Digitally searchable with easy individual document copying for class use.
A course syllabus for using the e-book is provided at https://israeled.org/wp-content/uploads/2014/08/2017.6.7.History-383-Syllabus-Updated-w-New-Document-Numbers.pdf
The syllabus can be effectively used to extract documents on specific topics/themes related to the conflict or Israel/Zionist history.
This book can be purchased in Kindle format from July 15, 2017.
---
The e-book is in pdf format and searchable using a 'find' function and side cursor. The e-book is partitioned as follows:
Part I – 13 Maps, pp. 28-43.  Sample – Map of the Ottoman Empire, 1914
Part II to 1947 – 63 items, pp. 44-328.  Sample – Arab Land Sales to the JNF, by mortgage debt forfeiture, summer 1930
Part III 1948-1966 – 29 items, pp. 345-466.  Sample – Menachem Begin on Arab Refugees, 1963
Part IV 1967-1979 – 102 items, pp. 472-779.  Sample –  President Lyndon B. Johnson, Five Principles of  Peace, 1977
Part V 1980-1993 – 104 items, pp. 783-1080. Sample – Iraqi President Saddam Hussein Statement on Israel's Right to a Secure State, 1983
Part VI 1994-present – 210 items, pp. 1082-2147.  Sample – Yitzhak Rabin's Reasons for Signing the Oslo Accords, 1995
2148 pages
February 2017 College Course (Third edition)
A syllabus corresponding to this resource book with primary sources referenced to a course calendar may be found here.