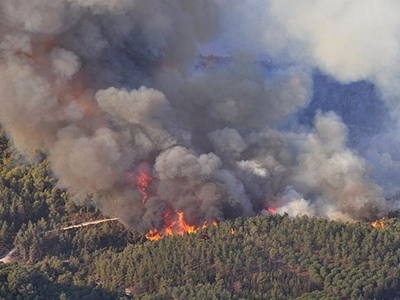 December 2, 2010
The deadliest forest fire in Israel's history broke out on the Carmel Mountain Range near the city of Haifa. The fire spread rapidly, burning for four days and consumed over 8,000 acres. It claimed the lives of forty-four people, severely damaged homes and property, and consumed an estimated five million trees. 17,000 people were evacuated from their homes.
Thirty-seven of those killed in the fire were prison service officers who had been dispatched to help evacuate the prisoners at the Damon Prison. The fire began near the Druze village of Usfiyye when a teen discarded a piece of charcoal from a water-pipe he had been smoking. Within two hours, stoked by a hot easterly wind, the fire turned into a 105 foot high wave of flames.
Israel's immediate plea for assistance was answered by twenty-four countries sending aircraft, firefighters and materials to help battle the blaze.
In 2012, Micha Lindenstrauss, Israel's State Comptroller submitted a 500 page report to the Knesset regarding the fire. The report found that the country was woefully unprepared to deal with a disaster of this magnitude. Israel had only half of the necessary fire-fighting equipment and vehicles and a quarter of the number of fire-fighting personnel needed for a country of its size. Furthermore the country possessed only 20 tons of fire suppressant material of which the emergency minimum was 450 tons. The report placed blame on the Finance and Interior Ministries for their underfunding of fire-fighting service with Lindenstrauss commenting that "the failures of the Finance Ministry and the Interior Ministry and their inadequacies are significant, fundamental and severe."
Following the disaster, 18,000 volunteers contributed their time and efforts to the Jewish National Fund and other organizations to help in the process of regenerating the fire-lost land. One week after the fire was extinguished, twenty-one foreign ambassadors in Israel as well as a representative of the Palestinian Authority planted saplings in the forest.
Photo Credit: The 2010 Carmel Forest Fire