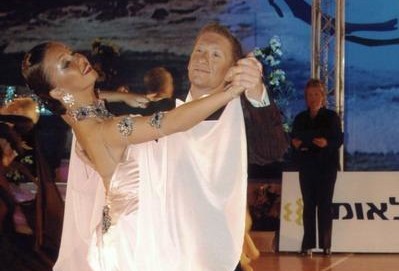 More than 3,000 spectators attend the Ten Dance European Cup at the sports center in Ashdod.  Under the auspices of the International Dance Sport Federation (renamed the World Dance Sport Federation in 2011), it is the first international dance sports competition to be held in Israel.  Ten Dance is a ballroom competition in which teams of couples compete in five standard ballroom dances (waltz, foxtrot, quickstep, tango and Viennese waltz) and five international Latin dances (rumba, samba, paso doble, cha-cha-cha and jive). The competition includes fifty dancers from 25 European countries.
While various forms of dance have long been popular in Israel, the growth of competitive ballroom dancing in the country owes its popularity to two occurrences.  The first is the massive immigration from the former Soviet Union.  Following the breakup of the Soviet Union in 1989, nearly 1 million Russian Jews make aliyah to Israel in the 1990s.  The influx of so many Russians, for whom ballroom dancing is an integral part of their culture, has a tremendous impact on the growth of competitive dancing in the country. Galina Shustin, director of the Ballroom Dancing Academy in Ashdod told Al-Monitor in 2015, "When I arrived in Israel from Russia in 1991, there was nothing here…I went to local schools, gave a few sample lessons, and people started coming. I now have about 200 students, ranging in age from four to adult."
Ashdod, a coastal city, south of Tel-Aviv, is exemplary of the impact of the Russian immigration on Israel's demography and culture.  The city nearly doubles in size during the 1990s and today has a population over 210,000, one third of who are immigrants from Russia, and is Israel's fifth largest city.
The second factor that plays a role in ballroom dancing becoming more popular in Israel is the 2005 launch of the television show Rokdim Im Kochavim (Dancing with the Stars).  The show, which is very highly rated, leads to more Israelis becoming interested in ballroom dance.
The 2006 competition in Ashdod is won by Alexey Zakharin and Ekaterina Shvetsova of Russia.  The top Israeli finisher is the team of Anatoly Shenkel and Victoria Shupletsov who come in seventh.
The photo shows Shenkel and Shupletsov dancing in the April 8, 2006 competition. Photo source: www.dancesportinfo.net.