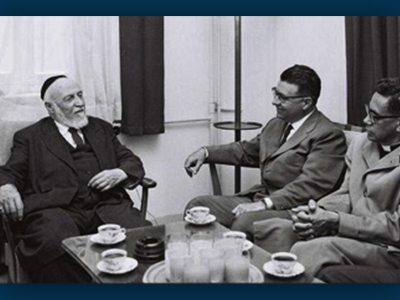 January 6, 1942
Jacob Moshe Toledano was born in Tiberias in 1880.  The Toledano family traced its roots back to Toledo in Spain and produced a long-line of distinguished Sephardi leaders.   In 1862, his father, Rabbi Judah Toledano immigrated to the Land of Israel from Morocco with 300 families, settling in Tiberias. Jacob Moshe Toledano received his education in the city, becoming a rabbi and gaining a reputation as a scholar.  He began writing regularly about Torah and Jewish Law in the Hebrew press in 1899.
When a cholera epidemic hit Tiberias in 1903, the family relocated to Peki'in, near Safed in the Upper Galilee, where Jacob helped to organize the village's first Hebrew school.  After four years in Peki'in, Toledano returned to Tiberias. Concerned that the town could be cut off from the nearby graves of Rabbi Akiva and Maimonides, he organized a land acquisition society which ultimately strengthened the Jewish section of Tiberias.
At the outset of World War I, Toledano and 700 other Jews of North African descent living in Palestine who had French citizenship were expelled to Corsica by the Ottomans.  He would return to Tiberias after the war before being called to serve as the Chief Rabbi of Tangiers, Morocco in 1926.  After serving in Morocco for three years, he moved to Egypt where he served as Head of the rabbinical court and later as Chief Rabbi in Alexandria.  Toledano was a scholar of Jewish communities in Arab lands and he often traveled to Syria and Iraq in search of ancient manuscripts.
Toledano returned to the Land of Israel in early 1942 to take up his new post as Sephardi Chief Rabbi of Tel-Aviv and Jaffa.  In June 1958, David Ben-Gurion persuaded Toledano to serve as Minister of Relifgious Affairs.  Despite opposition from the National Religious Party, he was confirmed in December 1958 and held the post until his death on October 15, 1960.
Photo Credit:  Rabbi Jacob Toledano (left) meeting with a delegation from Brazil while he served as Minister for Religious Affairs in 1960.