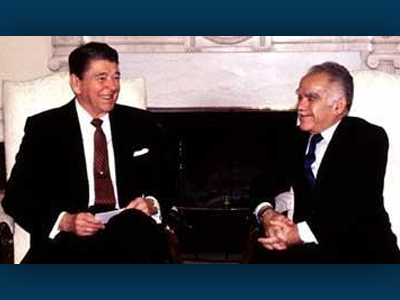 October 10, 1983
Yitzhak Shamir becomes the seventh Prime Minister of Israel after Menachem Begin resigns due to health and personal issues. He forms a coalition government with Likud, the National Religious Party, Agudat Yisrael, Tami, Telem and the Tehiya (joined on 26.7.82).
Prime Minister Yitzhak Shamir would serve the remainder of Begin's term, focusing on improving relations with the United States and on helping to stabilize Israel's economy, until the scheduled elections of July 1984. In those elections, the Alignment led by Shimon Peres received the most votes but was unable to form a coalition. A special national unity government was formed whereby Peres served as Prime Minister for two years and Shamir for two years.
Yitzhak Shamir, as head of the Likud Party, was elected again in the 1988; he served as Prime Minister until Likud's defeat to Yitzhak Rabin and the Labor Party in 1992.